New York City Vacation Travel Guide becomes Expedia's most watched video ever
We are delighted to announce that over the weekend, our New York City Vacation Travel Guide reached more than 3,615,336 views officially making it Expedia's most viewed video.
According to Tourism Media Director Nick Joy, the whole Tourism Media team is delighted by this milestone. "Our Expedia Vacation Travel Guides really are a team effort," he says. "From early research and permission gathering to script writing and editing, every step is handcrafted and it is wonderful to see that the audience responds so well to that quality. It is often said that online audiences won't stick with a video longer than a couple of minutes but the New York Vacation Travel Guide  is 6 minutes long and our statistics show that viewer retention is extremely high."
Tourism Media's Digital Expert, Matthew Sawyer has been watching the performance of the video and says that it is (unsurprisingly) popular with U.S. audiences but is also extremely popular in the U.K., Germany and Mexico.
As you can see from the graphs below, although it is three years old, this video shows no signs of slowing down.
Scriptwriter John Danalis, who also writes novels and children's books quipped, "If only I could see those kind of numbers on my royalty statements!"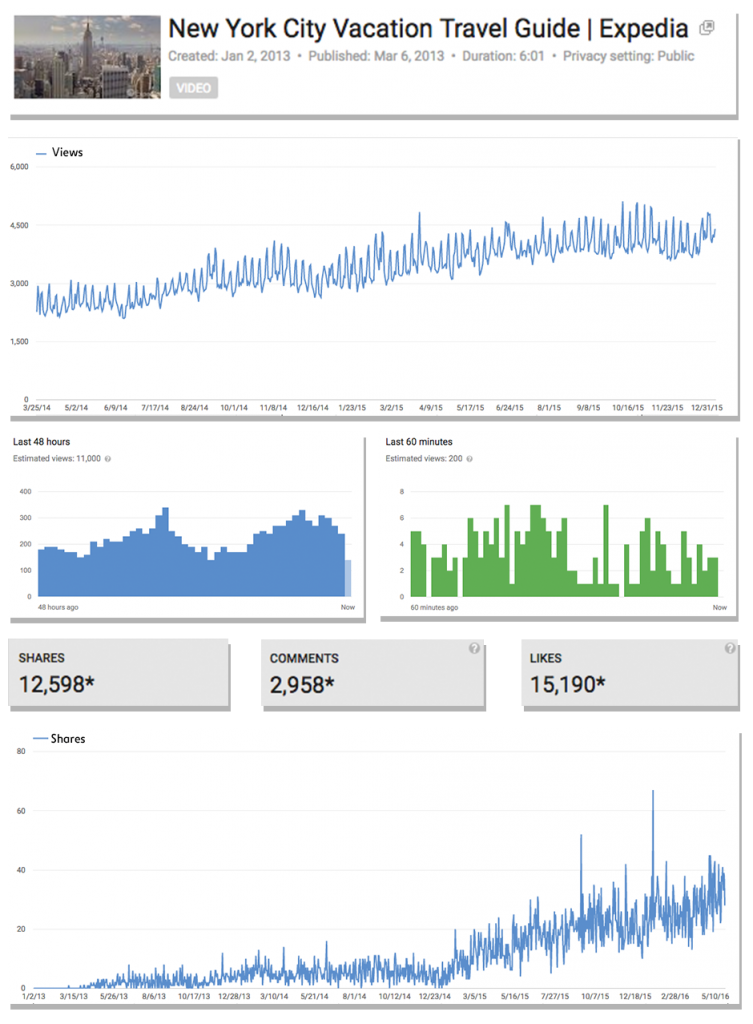 You can watch it here.
See more posts from
Kathy Wilson